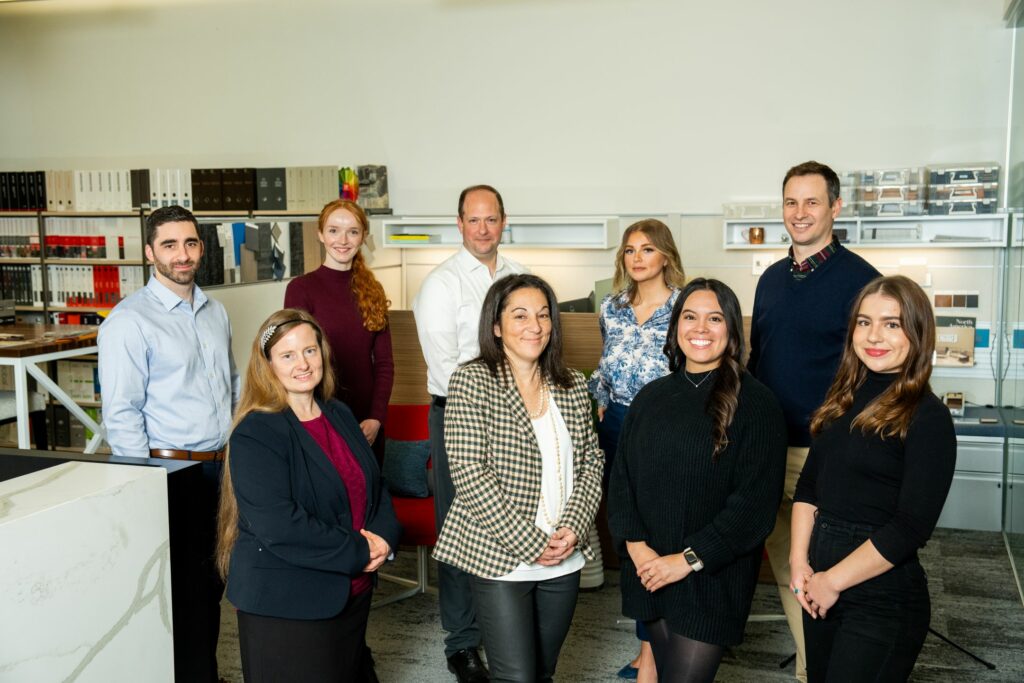 Peter Markham has been in the office design business since 1996. His range of experience in furniture design throughout the years has provided Peter with a wealth of knowledge about the industry. In July of 2014, Peter took his extensive background in furniture design one step further with the launch of Focus Interior Products. Since then, Focus Interior Products has held to true to their goal of providing beautiful, functional, and productive environments for today's workplaces. Although Focus Interior serves a variety of corporations, Peter's open and honest approach to client relationship has helped to build strong bonds with each of his clientele, no matter the size. As owner of Focus interior, Peter is committed to integrating beautifully functional designs into professional workspaces.
Stephanie graduated from Stockton University in 2019 with the honors of Program Distinction and Magna Cum Laude and is currently enrolled at Rutgers University to receive her Masters Degree in Communication Studies. Stephanie is organized, creative and characterized by her enthusiasm and dedication, making her a great fit for Focus Interior's team. She has previously worked in the production and interior design industry as a Marketing Manager. When Stephanie is not working she is either teaching yoga classes, hiking, traveling, camping or spending time with friends and family.
Keri Coulter helps to promote and develop our growing business. She loves interacting with clients and colleagues alike. Her professional and dedicated work manner helps us highlight the beautiful array of products we have to offer our clients.
Passion drives Jasmine's decisions in her work as well as her life. She aspires to communicate her passion for design by creating engaging, inspiring spaces for people to live, work and grow. Jasmine has an interest in both commercial and residential design and hopes to utilize her skills to help clients. Jasmine has come to evolve as a designer, seeing design as far more than a thought-out layout. From the textures of fabric, to the reaches of light, to the duality of beauty and function, design is an artform. Design is a medium that both expresses and evokes emotion. Her professional experiences have enabled a deepening of this reality, expanding her idea of design and its multi-faceted nature. Jasmine graduated from Suffolk University and has a background in Lighting Design, Residential Design, Textile Design, and Commercial Design.
Ryan graduated from the University of Delaware (Operations Management major) in 2015, and worked as Project Manager in the lighting/controls industry. He enjoys problem solving and coming up with creative solutions for clients and customers. Outside of work, he enjoys playing golf and spending time with family and friends.
Abigail graduated from Savannah College of Art and Design with her master's degree in Architecture. She is an Architectural Professional with sixteen years of experience in residential, commercial, and retail store design. Over the years she has worked on projects from inception to completion, gaining a vast array of experience throughout the architectural and construction industry. Abigail has played an integral part of various Workplace Strategy and Occupancy Management teams. She has received her Well AP accreditation. Abigail has worked diligently to build and sustain strong client relationships. Abigail is most passionate about finding creative and sound solutions to enhance productivity and environments. She believes an employee is a company's biggest asset, and brand ambassador. It is vital to make sure people are fully engaged with their surroundings and encouraged to be their most productive and happy self. Outside of work, you can find her playing hide and seek or building pillow forts with her two young daughters.
FURNITURE SPECIFIER & INTERIOR DESIGNER
In the early stages of Andre's career, he realized he had a passion for custom furniture. This led him to his current position with Focus Interior Products, selecting unique products that help complement each project. His goal is to find the best solution for his clients' needs while designing a space that truly wows. Outside of work, Andre can be found cooking, playing soccer, traveling, and spending time with his family and friends. His personal motto- you only live once- pushes Andre to live an open-minded and joy filled life.
FURNITURE SPECIFIER & INTERIOR DESIGNER
Lindsey is a creative and detail-oriented designer. With Magna Cum Laude honors, she received a Bachelor of Science in Interior Design from Northern Arizona University. She enjoys exploring innovative design solutions that provide clients with exceptional and optimal space performance- a fusion of aesthetic appeal and functionality. Outside of work, Lindsey enjoys painting, cooking and visiting new places.
What inspires Lea about design are the endless possibilities of working creatively. She thinks that the growth of a designer never stops and that each day provides potential opportunities. Her goal is to create a space that has a positive impact, both – on the people using it, and on the environment.
Tyler is a dedicated professional who has always had a strong interest in design and construction from a young age. After years in the construction industry as both a project manager and subcontractor, Tyler has developed expertise in a variety of areas, including construction processes, materials, and techniques, and pays particular attention to detail, especially in material finishes. Tyler uses his experience and expertise to guide clients through the design and construction process and is committed to ensuring that every project is completed on time, within budget, and to the exact specifications of his clients. Tyler spends his free time hiking, biking, and visiting zoos & aquariums with his family. 
Operations, Pre-Construction & Strategic Sourcing
Peter is an innovative Operations and Project Manager with a proven track record of 8+ years' experience in the field. Peter excels at developing and maintaining strong client relationships while implementing cost-effective solutions that align with their objectives. What truly excites Peter are opportunities to work collaboratively with highly creative individuals from various departments, in order to develop groundbreaking solutions that meet clients' unique needs.
Administration, Office Support & Finance
Danielle has over five years of experience working in finance and administration in the construction industry. She sees every challenge as an opportunity to learn and grow and is truly invested in finding inventive solutions to solve the most arduous of problems. Danielle values depth and honesty and seeks to surround herself with people that challenge ideas and expose new concepts.